Gord, Owner
Hi my name is Gord, I am the owner of Wildwood Outdoor Living! First opening our doors in 1979 as Cannor Nursery, we've been serving the Greater Victoria area for 40+ years. We've always been passionate about plants, but in 2007 when I took full ownership, our big vision began to change. I started working with Cannor in 1980, when I saw the potential to grow it into something more and this is how the Wildwood Outdoor Living Centre was born! No longer just a nursery, but instead an all-in-one stop for your outdoor living needs; including garden supplies, water features, landscape design & hot tubs. 
Wildwood Favorite: There are just too many to list!
Carrie, Receptionist
Hi, my name is Carrie. I am the Receptionist at Wildwood Outdoor Living Centre. Since 2020, I have been communicating with our lovely customers over the phone and through email as well as managing our administrative tasks. I get the best view in the office, with the biggest window, hummingbird feeder and shrubs!  
Wildwood Favourite: Our flowers! The more colorful and fragrant, the better!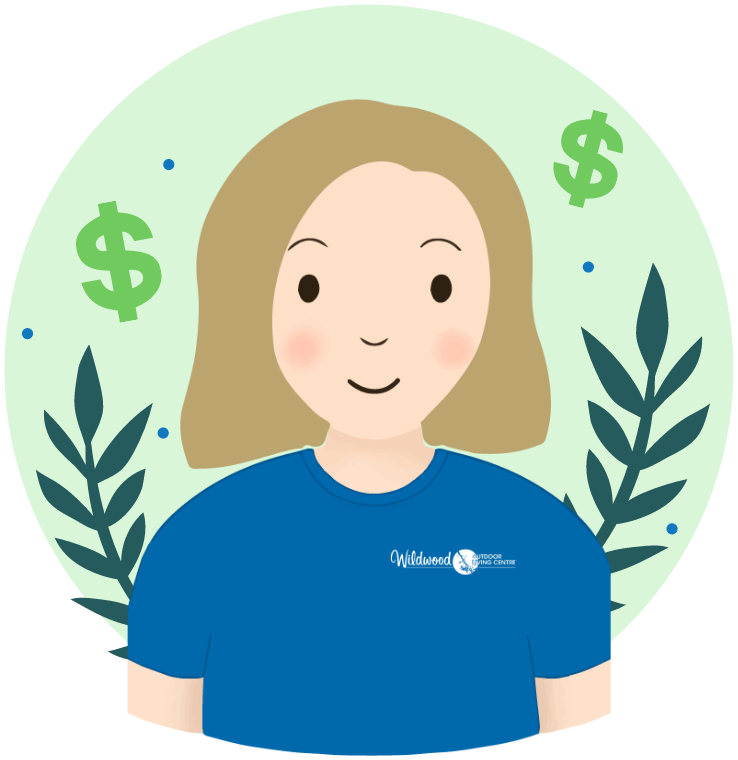 Launa, Accountant
Hi my name is Launa. I am the Accountant at Wildwood Outdoor Living Centre. Since 2015, I have been balancing the books at Wildwood and making sure our staff get paid for all their hard work. I love to see the nursery stock arrive in the spring and watch the buds and blossoms come out.
Wildwood Favourite: Our huge hanging baskets!
Jasmine, Manager
Hi, my name is Jasmine! I am the Manager of Wildwood Outdoor Living Centre. Since 2001, I have kept a long to-do list of everything and anything to keep me busy, and our store running smoothly. Over the past few decades I have enjoyed working with our amazing staff and customers at Wildwood. It has been a blessing meeting so many wonderful people over the years! The seasons are forever changing so don't forget to stop in to say "hi" and see what's new! 
Wildwood favourite: I've got one of each! Eastern Redbuds (Tree), French Lilac (Shrub), Chilean Guava (Fruit), Perennial Peonies, Daffodils (Bulbs), Lantana (Annuals).
Maureen, Head Cashier
Hi, my name is Maureen! I'm the Head Cashier at Wildwood Outdoor Living Centre. Since 2019, I have been overseeing Wildwoods daily operations in the store by managing staff, helping customers, managing our cash and inventory! I love gardening, I love interacting with our customers and I love my coworkers! 
Wildwood Favourite: I couldn't pick just one, there are too many to list!
Mike, Sales
Hi, my name is Mike. I am work in Sales for all Wildwood hot tubs, BBQ's and aquatics. Whatever needs to be done, I am happy to help! The best part of my job is interacting with customers and staff. I especially love converting people to Big Green Egg BBQ's! 
Wildwood Favourite: Nepenthes and Carnivorous Pitcher Plants!
Madelaine, Digital Media Coordinator
Hi, my name is Maddie. I am the Digital Media Coordinator at Wildwood Outdoor Living Centre. Since 2021, I have been taking care of Wildwoods online communications. You can find me posting and sharing online with our customers or setting up our promotions for Wildwood Express. What I love most about working at Wildwood is learning, sharing and growing with our customers. 
Wildwood Favourite: All of our outdoor living decor! Furniture, decals, pots, art, sculptures & more!
Anne, Horticulturist and Designer
Hi, my name is Anne. I first started at Wildwood Outdoor Living Centre in 2008. I work with the Wildwood Landscapes Division and am involved in design, installation and maintenance for commercial customers. I find the diversity of questions and ideas from customers really inspiring.  It allows me and our team to be creative, and find solutions for any vision they may have.  I'm always learning something new!
Wildwood Favourite: I have a huge soft spot for Carnivorous plants and Succulents!

info@wildwoodoutdoorliving.com
4660 Elk Lake Drive Victoria, BC V8Z 5M1
Let's Grow Together!
Our store is pet-friendly.
Please bring your leashed, furry friend with you!